ICCONS under SRCCD was established in 1998 for the comprehensive management, treatment, training and research & development in the areas of various developmental disabilities and non communicable neurological disorders like Autism, Mental Retardation, Cerebral Palsy, Learning Disability, Hearing Impairment, Single and Multiple Congenital Anomalies and Acquired Language Disorders followed by Stroke, Head injury and other Metabolic and Neurological Disorders such as Dementia, Parkinson's disease, Motor Neuron Diseases etc. Since the establishment of ICCONS Trivandrum in 1998 and ICCONS Shoranur in 2000, nearly 20000 patients with above mentioned conditions have been registered and is under regular follow up. SRCCD has also got a Community outreach centre at Kottayam in collaboration with Lion's club Kottayam. ICCONS provides regular Outpatient services and multidisciplinary rehabilitation program involving Doctors (Neurologists, Pediatricians,General Medical Officers), Speech Language pathologists, Clinical Psychologists, Physiotherapists, & Clinical Linguists in both centers (Shoranur& Trivandrum) and its community outreach centre at Kottayam. Daily Developmental school that provide educational training and vocational training for children and adolescent with special needs are also attached to these centers. In addition Shoranurcentre has Inpatient services that include emergency management, Adolescent and adult Autism ward, behavioral management and ADL (Activities of Daily Living) training for pediatric population of children with Autism and Mental Retardation, Stroke and Other Non communicable Neurological Disorders. Inpatient services are also provided in specialized areas like children with Global Developmental Delay (Special project under NRHM). The Institute also proposes to start surgical intervention in specialized areas like reconstructive and restorative surgery for children with Cerebral Palsy and other congenital deformities, acute stroke management, ENT and Oro facial re constructive surgery. As part of its objective to develop technical man power in specialized services, Research & Development ICCONS Shoranur is conducting BASLP Course from 2001 and MASLP from 2006 onwards. Institution also proposes to start M-Phil in Clinical psychology and Rehabilitation psychology courses from next academic year. Last year with financial assistance from Govt. of Kerala ICCONS established GDD ward for children with severe cognitive disability below the age of 2.6 Yrs. We have also set up two Operation theatres, ICU and Neuro radiology division for the purpose of starting acute and chronic stroke rehabilitation, an adolescent autism home, special school for children with autism and other developmental disabilities and hostel complex is under construction with NRHM fund and is expected to be completed by June 2014. In the Research &Development side we have established a genetic metabolic and Neuro endocrine lab with funding from the State Govt. and NRHM. ICCONS regularly carry out genetic research in Autism, Mental Retardation and other related Neuro developmental disorders. Though with our treatment and rehabilitation programs, considerable improvement and satisfaction could be achieved to many disabled population, the fact remains that most of the Neuro developmental disorders like Autism, MR, CP, motor neuron disorders like dementia, stroke related aphasia and cognitive & language disorders that affect elderly are non curable with the current knowledge in modern medicine. From its inception, one of the major objectives of ICCONS has been independent and integrated medical research to find out solution and curative treatment for various non communicable neurological disorders. In the context of integration we have informally discussed with physicians mainly from KottakalAryaVaidyasala for possible and feasible avenues for integration at various levels in specific areas of Ayurveda, the traditional and ancient medical system of India with modern medicine. From the discussions emerged a strong consensus regarding the possibility of an integrated approach to treatment and R&D.
To look in to the magnitude of the problem we conducted a survey taking Shoranur Municipality as a sample (micro population) and studied the pattern and prevalence of various developmental disabilities, chronic non communicable neurological disabilities and life style disorders. The importance of identifying and managing Lifestyle disorders is that they are one of the common cause for many acquired non-communicable neurological disorders like Stroke, Dementia, Parkinsonism in adult population. The study reveals Life Style Disorders (in this survey Hypertension, Diabetes Melitus and Coronary Heart Disease) to constitute 62.78% of the chronic non communicable disorders and 7.6% of the total population. The data is given in the appendix. The result of the survey makes known a distinctive type of demographic transition in Kerala with a rapid reduction in fertility and expanding elderly population and shrinking middle aged supportive work force population; an increased life expectancy and decreased birth rate with more than 67% above the age of 60 years and 24.56% below 16 years have one or other form of chronically disabling non communicable disorder. This should be a matter of concern for health care professionals and policy makers in the state. Unless institutions are established and treatment modes developed for curing and preventing these types of chronic life style disorders, motor neuron disorders, neuro developmental disorders and non communicable disorders, every nation will have to face significant man power loss and consequent economic impact. The World Health Organization, Harvard school of Public Health and World Federation of Neurology has highlighted these aspects of health and disability through its publications in 2002, 2004, 2007 and 2011. Taking these factors in to consideration the Institute is proposing "Integrated medical research and development for the management of developmental disabilities of non curable and non communicable neurological disorders".
Integrative Medicine is the practice of medicine that reaffirms the importance of the relationship between practitioner and patient, focuses on the whole person, is informed by evidence, and makes use of all appropriate therapeutic approaches, healthcare professionals and disciplines to achieve optimal health and healing.
Mission: to investigate the scientific principles of modern medicine, Ayurveda as well as other medical systems and define & delineate the safety and effectiveness of such treatment for relief from symptoms or cure of disease through meticulous scientific investigations and research or derive and develop new formularies or methodologies.
Vision: Scientific evidences justify the use of medicine or regiments that ameliorate or cure non curable disorders and disabilities that lack precise guidance or treatment and health care professionals and policy makers adhere to such scientific evidences.
Objectives:

To provide a sustainable, central forum at ICCONS for interdisciplinary, inter-institutional, and international collaboration, research, and development in complementary, alternative, and integrative medicine.
Through exploration and rigorous scientific inquiry, we aim to improve awareness and access to the best in evidence-based, comprehensive medical care available worldwide, with the goal of optimizing health and healing.
Through integrative research develop new formularies or methodologies for cure of DDs & NCNDS.
Concept Evolution:

The National Center for Complementary and Alternative Medicine (NCCAM) – 1998
International Society for Complementary Medicine Research (ISCMR) - 2003
Centre for Integrated Medical Research Keio University Japan - 2001
Integrative Medicine at Yale University - 2006
Concept of Integration
The National Center for Complementary and Alternative Medicine (NCCAM) is the Federal Government's lead agency for scientific research on complementary and alternative medicine (CAM). 1 of the 27 institutes and centers that make up the National Institutes of Health (NIH) within the U.S. Department of Health and Human Services.
International Society for Complementary Medicine Research (ISCMR) - 2003
The International Society for Complementary Medicine Research (ISCMR) is an international professional, multidisciplinary, non-profit scientific organization that is devoted to fostering Complementary and Integrative Medicine research and provides a platform for knowledge and information exchange to enhance international communication and collaboration.
In November 2008, the 'European Chapter' was established as a 'Special Interest Group' within ISCMR. It constitutes a platform for researchers involved in complementary medicine, and promotes exchange and cooperation within Europe. The 'Asian Chapter' was established in May 2012 at Portland. Its aim is to increase understanding of traditional medicine in Asia and promote research collaboration within ISCMR through sharing information, achievement and distinguished features on traditional medicine.
Goals:

Facilitate communication and collaboration among researchers and practitioners with an interest in research on a worldwide basis.
Provide access to Complementary Medicine research information (internationally relevant events, conferences, publications, funding).
Provide access to an international database of ISCMR members.
Provide reduced journal subscription rates and international meeting registration fees.
Collaborate with individual researchers (or teams), regional societies, professional organizations and research networks to further mutual goals related to research and development agendas.
Co-organize an annual International Congress for Complementary Medicine Research (ICCMR).

Methodology:
Brain Storming Sessions, Interactive Seminars, Informal And Formal Meetings
Formation of Research Committee of Policy Makers, health Professionals, Researchers, Social Activists & Philanthropist
Formation of an Ethical Committee for Research.
Mobilization of funds for Infra Structure & Technological Assistance.
Identification of Levels of Integration, Treatment, R & D, Mobilization of Funds, newer Formulary Development
Call for Research Proposals
Periodic Evaluation and Progress Reporting and Permeation of Information National & International Media.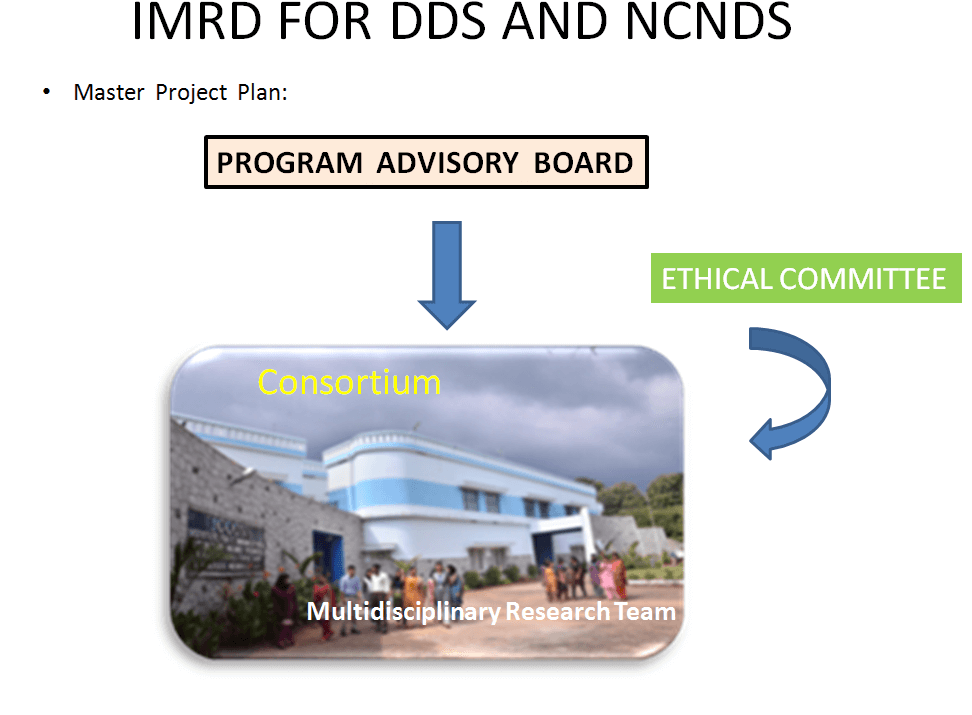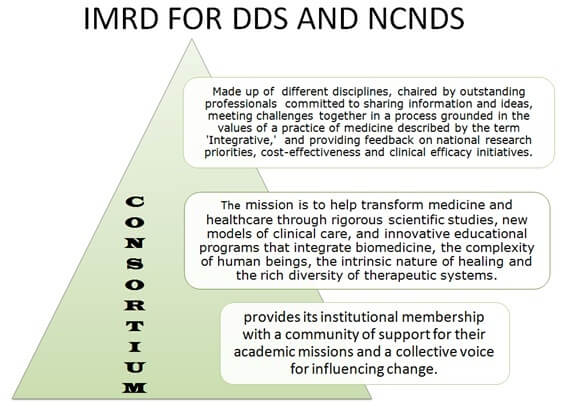 The independent disciplines in the consortium should be proactive to promote R & D in their respective field that has a prominent role and fit in with the major mission of IMRD.
Available facilities to establish the project
1. ICCONS has purchased V. K Amma Hospital with financial assistance from Govt. of Kerala. The building will be renovated to accommodate people withnon communicable neurological disorders and they will be treated and supervised jointly by experts from both disciplines.
2. Research & Development (The institute has well established genetic, metabolic and neurophysiology lab). The molecules and methodologies used in
3. Ayurvedamedicines will be analyzed using modern technologies and its principle of action will be studied in the neurobiological set up and proper molecules will be developed for future treatment.
4. Additional establishment that is required for the pursuance of this project

a. An f-MRI unit
b. A nanotechnology division
Autism
Mental Retardation
GDD
CP
Single & Multiple Congenital Anomalies Rare Disorders
Stroke
MNDS
Dementia
For this, suitable projects will be submitted to Central Govt. for financial assistance.
The present seminar is organized to convey an overview of an integrated approach, besides, to get a consensus of eminent persons from different walks of life to form a suitable ethical committee. We also consider the feasibility of applying modern medical measures like stem cell therapy and gene therapy for the treatment of these disorders. For the proper conductance of these type of researches, application of the knowledge in basic science like chemistry, neurochemistry, genetics, physics, electronics and computer are essential and programs of developing these divisions and laboratory set up is important. Committed research oriented man power development is also required. It is also proposed that ICCONS SRR may be developed as a deemed university of national accordance.
In 2005, Life style diseases such as Stroke, Cancer, Heart disease and Diabetes caused an estimated 35 million deaths and contributed to 60 % of deaths world wide. The trend of these disease burden is projected to rise over the next decade. Health systems can protect the population from these diseases, but only if they work beyond their traditional role and address determinants outside the health sector.
In May 2007 Common Wealth HelthMinisters(CHM) met in Geneva, Switzerland, to discuss the theme "Life Style Diseases: Health Systems Approaches". Life Style Diseases such as Stroke, Cancer, Heart disease and Diabetes are by far the leading causes of mortality in the world representing sixty per cent of all deaths. Ministers expressed a strong consensus that life style diseases were crippling the health of Commonwealth citizens and that the time had now come to act. The importance of life style diseases was given further recognition when Heads of Government of the Caribbean community (CARICOM) held an historic summit on 15th September 2007 in Trinidad. These meetings have helped raise the global profile of Life Style diseases and will be important catalysers upon which to build our efforts. The key points prepared from the papers presented by the Commonwealth advisory board included integrating sport and physical activities to promote a healthy life style. They reiterated the importance of sports in making a difference in terms of preventing disease and tackling discrimination. Sports breaks down barriers ( in terms of race, social strata), builds self esteem and can teach life skills and healthy behavior.
The survey of SRR even though covered a micro population; nearly 12 % of population is suffering from chronic life style disorders. Modification of life style through exercises, dietary regulations, and periodic check up, control of blood sugar, cholesterol are important in this respect. It is also said that many of the developmental disability like autism and MR significantly improves with diet modifications and exercises especially in the control of behavioral problems. In this respect, to create a supportive environment that makes healthy choices are affordable and available to all, the premises of ICCONS is converted into environmental and nature friendly rehabilitation park with facilities for mental relaxation as well as physical exercises. The institute will open a free medical checkup provided by RMO s on regular days at prescribed intervals and facility for routine blood analysis. And also the premises of the park will be open to public between 5 – 8 AM & 5-8 PM for exercises and use of kinesiology lab/medical gym during these hours. In the working hours the facilities is for IP and OP. the facility will be initially opened to patients identified through survey. Institute also wants to promote community sport to maintain a model healthy habit. These are model project so that it can be replicated in connected with primary and secondary health care centers under Govt. of Kerala. It is requested that additional fund may be provided to establish a small indoor stadium, expanded gym for men and women and vehicle facilities.